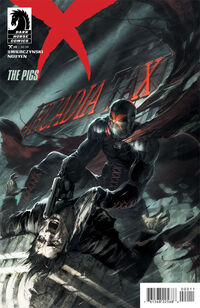 X is published by Dark Horse Comics. The cover price is $2.99.
X #23: 11 Mar 2015
X #24: 08 Apr 2015
none
Monthly series. Final issue was #24.
Other Characters/Places/Things
[
edit
|
edit source
]
This is the current issue, and therefore no story information will be posted about this issue. Please check your local comic shop for copies of this issue.
X Omnibus vol. 1 - Collects vol. 1 #1-12, plus X Hero Illustrated Special #1-2, X: One Shot to the Head, Comics Greatest World: Arcadia #1, & stories from Dark Horse Comics #8-10, 19-20. - WorldCat - ISBN 1593079397
X Omnibus vol. 2 - Collects vol. 1 #12-25. - WorldCat - ISBN 1593079400
X, vol. 1: Big Bad - Collects vol. 2 #0-4. "When muckraking blogger Leigh Ferguson snoops down the wrong alley, she gets swept into X's bloody war with a politically powerful crime lord." - WorldCat - ISBN 1616552417
X, vol. 2: The Dogs of War - Collects vol. 2 #5-8. "When X attacks the notoriously corrupt narcotics squad known as 'The Dogs of War,' the manipulative Lt. Setter fights back by pitting him against the last few honest cops in Arcadia… and X's battle escalates into a war for the soul of the city!" - WorldCat - ISBN 1616553278
X, vol. 3: Siege - Collects vol. 2 #9-12. "Arcadia descends into chaos as old villains return to town and new ones are born! While X faces down suicidal psychos, superstitious mobsters, and thrill-junkie assassins, Leigh uncovers the secrets of his past . . . before he locked on his mask and became X!" - WorldCat - ISBN 1616554584
X, vol. 4: Better Off Dead - Collects vol. 2 #13-16. "Tango's gang was a handful, but the Archon and his army, the Chosen, are more powerful than any enemy X has ever faced! Betrayed or abandoned by his allies, X must face Arcadia's newest threat the old-fashioned way: alone!" - WorldCat - ISBN 9781616555993
X, vol. 5: Flesh and Blood - Collects vol. 2 #17-20. "When Leigh learns an old friend has fallen victim to the Skin Traders—surgically modified thugs who skin their abductees—she knows that only X can face their demented plastic-surgeon leader!" - WorldCat - ISBN 9781616556327
X, vol. 6: Marked for Death - Enter the Mark - Collects vol. 2 #21-24. "Can X halt a superpowered grudge match and rescue his city from the scars it leaves?" - WorldCat - ISBN 9781616558314
Leftover Useful Information
[
edit
|
edit source
]
Writer: Dwayne Swierczynski. Artist: Eric Nguyen. Covers: Raymond Swanland.
Volume 1: #1-25, 1994-1996
Volume 2: #0-24, 2013-2015
Dates subject to change at the whims of the publisher or distributor. Please see the Diamond Shipping Lists for current information.
Community content is available under
CC-BY-SA
unless otherwise noted.