(13 intermediate revisions by 3 users not shown)
Line 7:
Line 7:
 

===Last Issue===

 

===Last Issue===

 
 
 
+

:Titanium Rain #1 & 2 Double-Sized Relaunch: 21 Oct 2009

 
 
 

===Current Issue===

 

===Current Issue===

 
 
 
⚫
 
 
 

===Next Issue===

 

===Next Issue===

 
 
 
+

:''none scheduled''

⚫
 
 
 
 

==Status==

 

==Status==

Line 23:
Line 25:
 

===Main Characters===

 

===Main Characters===

 
 
−

*'''Alec Killian'''

+

*'''Alec Killian'''

 
+

::Call sign - Space Case

 
+
 
+

*'''Zoe Garland'''

 
+

::Call sign - Happy

 
+
 
+

*'''Wayne Schilling'''

 
+

::Call sign - PiSO

 
 
 

===Minor Characters===

 

===Minor Characters===

Line 30:
Line 39:
 
 
 

==Recent Storylines==

 

==Recent Storylines==

 
+
−

<!--

 
−

=== Titanium Rain #1 ===

+

=== Titanium Rain # ===

 
 
 

This is the current issue, and therefore no story information will be posted about this issue. Please check your [http://csls.diamondcomics.com/ local comic shop] for copies of this issue.

 

This is the current issue, and therefore no story information will be posted about this issue. Please check your [http://csls.diamondcomics.com/ local comic shop] for copies of this issue.

 
+
−

-->

 
 
+

=== Titanium Rain #1 & 2 Double-Sized Relaunch ===

 
+
 
⚫
 
 
 

==Past Storylines==

 

==Past Storylines==

 
 
 

==Collections==

 

==Collections==

 
+
 
+

===Hardcovers===

 
+
 
+

*'''Titanium Rain, vol. 1''' - Collects #1-4? "To be alive is to be at odds with the world. The instinct to survive is what has made us who we are. In the year 2031, mankind's survival instinct is put to the test when a Chinese civil war spirals into a global conflict. For many, like US Air Force pilot Alec Killian, survival will mean shedding some of his humanity in exchange for biotech and machine. Follow one pilot's journey thorugh mankind's worst, only to discover its best."

 
 
 

==History==

 

==History==

Line 46:
Line 62:
 

===Creative Team===

 

===Creative Team===

 
 
−

Writer/Artist/Creator: Josh Finney. Artist/Creator: Kat Rocha.

+

Writer/Artist/Creator: Josh Finney

 
+

*Artist/Creator: Kat Rocha

 
 
 

===Publishing History===

 

===Publishing History===

Line 56:
Line 73:
 

These are the order codes and prices as provided by Diamond Distribution. Your [http://csls.diamondcomics.com/ local comic shop] should be able to order these for you.

 

These are the order codes and prices as provided by Diamond Distribution. Your [http://csls.diamondcomics.com/ local comic shop] should be able to order these for you.

 

 

−

Issue 1: MAY08 3601

+

1: MAY08 3601

 
 
 

===Future Publication Dates===

 

===Future Publication Dates===

Line 62:
Line 79:
 

Dates subject to change at the whims of the publisher or distributor. Please see the [http://www.diamondcomics.com/shipping.asp Diamond Shipping Lists] for current information.

 

Dates subject to change at the whims of the publisher or distributor. Please see the [http://www.diamondcomics.com/shipping.asp Diamond Shipping Lists] for current information.

 
 
⚫
 
 
 
 

==News & Features==

 

==News & Features==

 
 
 
+

* 21 Oct 2009 - [http://www.comicbookresources.com/?page=article&id=23388 Archaia Forecasts ''Titanium Rain'']

 
 
 

==Links==

 

==Links==
---
Latest revision as of 16:12, 21 April 2010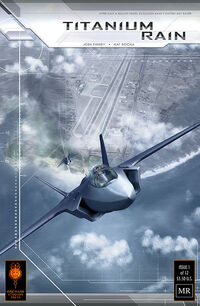 Titanium Rain is published by Archaia Studios Press. Price per issue is $2.99.
Publication Dates
Last Issue
Titanium Rain #1 & 2 Double-Sized Relaunch: 21 Oct 2009
Current Issue
Titanium Rain #3 & 4 Double-Sized: 04 Nov 2009
Next Issue
none scheduled
Status
Twelve-issue mini-series.
Characters
Main Characters
Call sign - Space Case
Call sign - Happy
Call sign - PiSO
Minor Characters
Other Characters/Places/Things
Recent Storylines
Titanium Rain #3 & 4 Double-Sized
This is the current issue, and therefore no story information will be posted about this issue. Please check your local comic shop for copies of this issue.
Titanium Rain #1 & 2 Double-Sized Relaunch
Titanium Rain #1
Past Storylines
Collections
Hardcovers
Titanium Rain, vol. 1 - Collects #1-4? "To be alive is to be at odds with the world. The instinct to survive is what has made us who we are. In the year 2031, mankind's survival instinct is put to the test when a Chinese civil war spirals into a global conflict. For many, like US Air Force pilot Alec Killian, survival will mean shedding some of his humanity in exchange for biotech and machine. Follow one pilot's journey thorugh mankind's worst, only to discover its best."
History
Leftover Useful Information
Creative Team
Writer/Artist/Creator: Josh Finney
Artist/Creator: Kat Rocha
Publishing History
First published in 2008.
Order Codes
These are the order codes and prices as provided by Diamond Distribution. Your local comic shop should be able to order these for you.
Titanium Rain #1: MAY08 3601
Future Publication Dates
Dates subject to change at the whims of the publisher or distributor. Please see the Diamond Shipping Lists for current information.
News & Features
Links