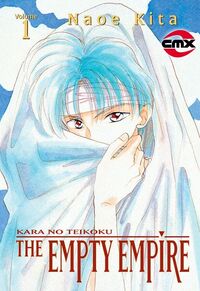 The Empty Empire is published by DC Comics under the CMX imprint. Current price per volume is $9.99.
The Empty Empire Vol. 6: 28 Dec 2007
The Empty Empire Vol. 7: 26 Mar 2007
none
Tankōbon manga collection. Published quarterly. Scheduled for seven volumes.
Other Characters/Places/Things
[
edit
|
edit source
]
This is the current issue, and therefore no story information will be posted about this issue. Please check your local comic shop for copies of this issue.
WorldCat - ISBN 1401217443
WorldCat - ISBN 1401214371
WorldCat - ISBN 1401211259
WorldCat - ISBN 1401211240
WorldCat - ISBN 1401211232
"Rose — a clone of the great Emperor Idea — is reluctant to assume his position as the emperor's replacement. But when Idea's body is stolen and all hell is about to break loose, the Imperial Authorities have no choice but to force Rose to become the inspiring figurehead he was bred to be. A challenge from Migime, the man in possession of Idea's body, motivates Rose to rise to the occasion, though it means putting himself at great risk. Also, more is revealed about Ririka — the imperial guard who has befriended Rose — and her relationship with the departed Emperor." - WorldCat - ISBN 1401211224
"With no memories and only a rose-shaped scar on his forehead as a clue, he ponders his legacy while on the run with the girl who rescued him from a group of armed warriors. She takes him to a scientist who identifies Rose as the Emperor's clone and believes that this young boy must assume the mantle of leadership. But opposing forces with their own agenda have created another clone from the Emperor's DNA... and now the struggle for power begins!" - WorldCat - ISBN 1401211216
Leftover Useful Information
[
edit
|
edit source
]
Writer/Artist/Creator/Covers: Naoe Kita.
Originally published in Japan as Kara no Teikoku (空の帝国).
First English language version published 2006.
These are the order codes and prices as provided by Diamond Distribution. Your local comic shop should be able to order these for you.
Dates subject to change at the whims of the publisher or distributor. Please see the Diamond Shipping Lists for current information.
Community content is available under
CC-BY-SA
unless otherwise noted.