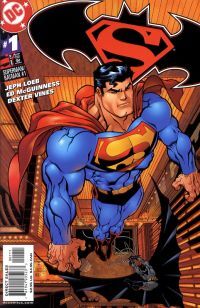 Superman/Batman is published by DC Comics. Current price per issue is $2.99.
Superman/Batman #86: 20 Jul 2011
Superman/Batman #87: 17 Aug 2011
none. But see Batman/Superman
Published monthly. First published in 2003. Final issue is #87.
Other Characters/Places/Things
[
edit
|
edit source
]
Issue #26. A special tribute issue to writer Jeph Loeb's late son Sam.
Issues #20-25.
Issues #14-18: Superman and Batman travel through alternate timelines, including one where they are absolute rulers of the U.S.
"The Supergirl from Krypton"
[
edit
|
edit source
]
Issues #8-13: Supergirl arrives on Earth. Superman welcomes her with open arms, but Batman is suspicious. Supergirl comes under the thrall of Darkseid, but her death is faked so that Darkseid will leave her alone. Supergirl goes to Themyscira to be trained by the Amazons.
Issue #7: Superboy & Robin are sent on a mission to Japan to convince the new Toyman to join the good guys.
Issues #1-6. While a large Kryptonite asteroid threatens the planet, President Lex Luthor declares Superman & Batman enemies of the state. But instead of defeating the heroes, Luthor ends up disgraced and run out of office.
The Superman & Batman team-up has a long history, going back to World's Finest Comics, which for most of its 322-issue run featued a Superman/Batman team-up in each issue.
Leftover Useful Information
[
edit
|
edit source
]
Dates subject to change at the whims of the publisher or distributor. Please see the Diamond Shipping Lists for current information.
Superman/Batman Omnibus, vol. 1 HC: 16 Jun 2020
Community content is available under
CC-BY-SA
unless otherwise noted.