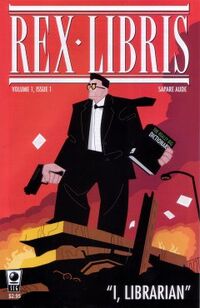 Rex Libris is published by Slave Labor Graphics. Price per issue is $3.50.
Publication Dates
Last Issue
Rex Libris #12: 20 Aug 2008
Current Issue
Rex Libris #13: 29 Oct 2008
Next Issue
none
Status
Characters
Recent Storylines
Rex Libris #13
This is the current issue, and therefore no story information will be posted about this issue. Please check your local comic shop for copies of this issue.
Past Storylines
Collections
Rex Libris, vol. 1: I, Librarian - Collects #1-5. "Rex must confront the powerful Space Warlord Vaglox and retrieve the overdue Principia Mathematica while an energy manifestation of blood thirsty Vandals attempt to burn down Middleton Library, and all within, to the ground." - WorldCat - ISBN 1593620624
History
"The astonishing story of the incomparable Rex Libris, Head Librarian at Middleton Public Library, and his unending struggle against the forces of ignorance and darkness. Rex travels to the farthest reaches of the galaxy in search of overdue books. Wearing his super thick bottle glasses, and armed with an arsenal of high technology weapons, he strikes fear into recalcitrant borrowers, and can take on virtually any foe from zombies to renegade literary characters."
Leftover Useful Information
Creative Team
Writer/Artist/Creator: James Turner
Publishing History
First published in 2005.
Order Codes
These are the order codes and prices as provided by Diamond Distribution. Your local comic shop should be able to order these for you.
Future Publication Dates
Dates subject to change at the whims of the publisher or distributor. Please see the Diamond Shipping Lists for current information.
News & Features
Links