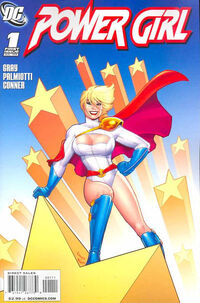 Power Girl is published by DC Comics. Cover price is $2.99.
Power Girl #26: 20 Jul 2011
Power Girl #27: 17 Aug 2011
none
Monthly series. Final issue is #27.
Other Characters/Places/Things
[
edit
|
edit source
]
Power Girl: A New Beginning - Collects #1-6. "JSA leader Power Girl wants to build a new secret identity — but a villain from her past has other plans for her and to get his way, he's holding Manhattan hostage. Plus, a trio of sexy alien marauders hits Earth for the ultimate party. Unfortunately, by their standards, that means destroying it." - WorldCat - ISBN 1401226183
Power Girl: Aliens and Apes - Collects #7-12. "Power Girl must contend with Satanna and her animal menagerie, who have returned to avenge her fallen lover, Ultra-Humanite. If that weren't enough, the alien Vartox has called upon Power Girl to help repopulate his planet!" - WorldCat - ISBN 1401229107
Power Girl: Bomb Squad - Collects #13-18. "Power Girl finds herself mysteriously unaware of the period in her life when Max Lord was pulling her strings as part of Justice League International. Meanwhile, the distractions of being a heroine cause her business to falter as her friends and co-workers disappear. " - WorldCat - ISBN 1401231624
Power Girl: Old Friends - Collects #19-27. "From robotic dinosaurs to the villainous Maxwell Lord to her own personal fan convention, Power Girl faces a plethora challenges." - WorldCat - ISBN 1401233651
Leftover Useful Information
[
edit
|
edit source
]
Issues #1-12: Writers: Jimmy Palmiotti & Justin Gray. Artist/Covers: Amanda Conner. Covers: Adam Hughes
Issues #13-27: Writer: Judd Winick. Artist/Covers: Sami Basri
First published in 2009.
A Power Girl mini-series was published for four issues in 1988.
Dates subject to change at the whims of the publisher or distributor. Please see the Diamond Shipping Lists for current information.
Community content is available under
CC-BY-SA
unless otherwise noted.