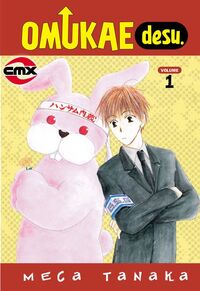 Omukae Desu is published by DC Comics under the CMX imprint. Current price per volume is $9.99.
Publication Dates
Last Issue
Omukae Desu Vol. 4: 02 May 2007
Current Issue
Omukae Desu Vol. 5: 01 Aug 2007
Next Issue
none
Status
Tankōbon manga collection. Published quarterly. Scheduled for five volumes.
Characters
Recent Storylines
Omukae Desu Vol. 5
Omukae Desu Vol. 4
Omukae Desu Vol. 3
Omukae Desu Vol. 2
"Hop on board with Madoka, as he shuttles more reluctant ghosts to the afterlife! This time, he assists the ghost of a stage-show 'superhero' by giving him one last shot at a heroic performance. He also helps a beautiful high school English teacher, a friendless 11-year-old girl, and an old woman who lost something precious. And is a bunny suit about to be retired?" - WorldCat - ISBN 1401211178
Omukae Desu Vol. 1
"You've heard of those who can "see dead people." But what if you could see dead people and a guy in a giant bunny suit trying to get them to the other side? Madoka is a high school student who is recruited by Nabeshima — the guy in the bunny suit — to work for the GSG (Gokuraku So Gei, a transportation service to heaven). Nabeshima is just way too busy, and since Madoka seems to have the power to see lost souls, he's recruited to help lighten the workload. Madoka is given the job of transporting wandering souls to the afterlife — on motorcycle! But many of the dead are reluctant to leave this world, feeling they haven't accomplished everything they should have in their lives. Madoka must assist the deceased in performing tasks that will help them finally feel closure and make them willing to leave everything behind for good." - WorldCat - ISBN 140121116x
History
Leftover Useful Information
Creative Team
Writer/Artist/Creator/Covers: Meca Tanaka.
Publishing History
Originally published in Japan as お迎えです。 in the anthology LaLa.
First English language version published 2006.
Links