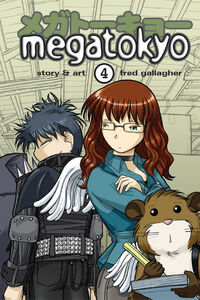 Megatokyo is published by DC Comics under the CMX imprint. Current price per volume is $9.99.
Megatokyo Vol. 5: 23 May 2007
Megatokyo Vol. 6: 02 Jun 2010
none scheduled
Tankōbon manga-style collection. Published irregularly.
Piro - American ex-pat twentysomething living in Tokyo.
Largo - Piro's best friend.
Hayasaka Erika (早坂 えりか) - A popular former Japanese idol and voice actress.
Nanasawa Kimiko (七澤 希美子) - Waitress at Anna Miller's restaurant. Aspiring voice actress. Has a crush on Piro.
Tohya Miho - Young gothic-lolita-type girl.
Other Characters/Places/Things
[
edit
|
edit source
]
This is the current issue, and therefore no story information will be posted about this issue. Please check your local comic shop for copies of this issue.
WorldCat - ISBN 1401224814
WorldCat - ISBN 1401211275
Preview - WorldCat - ISBN 1401211267
Preview - WorldCat - ISBN 1593073054
Preview - WorldCat - ISBN 1593071183
Preview - WorldCat - ISBN 1593071639
Megatokyo Datapack, volumes 01-03 - Collects vols. 1-3. - WorldCat - ISBN 1593071639 - (forthcoming, January 2013)
Leftover Useful Information
[
edit
|
edit source
]
Writer/Artist/Creator/Covers: Fred Gallagher. Creator: Rodney Caston.
Collects the Webcomic Megatokyo.
Volume 1 first published by Studio Ironcat in 2003.
Dark Horse published volumes 2-3, as well as a revised version of volume 1, in 2004–2005.
DC's CMX line took over publication as of volume 4 in 2006.
Dates subject to change at the whims of the publisher or distributor. Please see the Diamond Shipping Lists for current information.
Community content is available under
CC-BY-SA
unless otherwise noted.