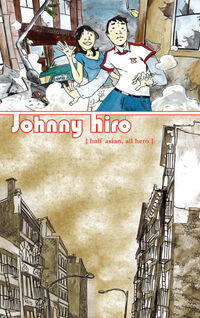 Johnny Hiro is published by AdHouse Books. Price per issue is $2.95.
Johnny Hiro #2: 19 Sep 2007
Johnny Hiro #3: 23 Jan 2008
none scheduled
Irregular ongoing series.
Johnny Hiro -- professional busboy and accidental hero
Mayumi Murakami -- Johnny Hiro's girlfriend, daughter of 1970's Tokyo action girl, Ami Murakami
Mr. Masago -- restaurant owner and Johnny Hiro's boss
Shinto Pete -- restaurant owner and Masago's rival
Gozadilla -- a giant dinosaur who once aspired to be "The Monster That Destroyed Tokyo," Gozadilla was defeated by Super A-OK Robot, specifically under the leadership of Ami Murakami
Super A-OK Robot -- a 1970s Japanese action team consisting of five individually piloted robotic limbs that, when joined together form a giant warrior robot. The team consists of:
Takashi Takahashi
Kenchi
Ami Murakami
Kid Science
Yoshi "Toro" Inoue
Other Characters/Places/Things
[
edit
|
edit source
]
The comic series features cameos by:
Michael Bloomberg -- Mayor of New York City
Alton Brown -- Host of the popular television series, "Good Eats"
Jeffrey Steingarten -- Chief food critic for Vogue magazine and freelance food journalist
Usher -- R&B recording artist and producer
David Byrne -- Former lead singer of New Wave band Talking Heads
This is the current issue, and therefore no story information will be posted about this issue. Please check your local comic shop for copies of this issue.
Johnny Hiro, vol. 1 - Collects #1-3. "Johnny Hiro tells the story of an everyman and the challenges he faces. Challenges like the revenge of a big lizard, the quest for a lobster, or what can happen when 47 ronin go to the opera." - WorldCat - ISBN 1935233025
Leftover Useful Information
[
edit
|
edit source
]
Writer/Artist/Creator: Fred Chao
Greys: Dylan Babb
Letters: Jesse Post
First published in 2007.
These are the order codes and prices as provided by Diamond Distribution. Your local comic shop should be able to order these for you.
Dates subject to change at the whims of the publisher or distributor. Please see the Diamond Shipping Lists for current information.
Community content is available under
CC-BY-SA
unless otherwise noted.