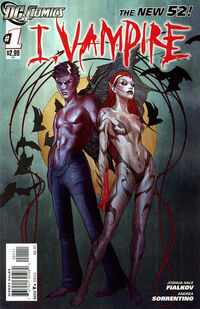 I, Vampire is published by DC Comics. Current price per issue is $2.99.
I, Vampire #18: 27 Mar 2013
I, Vampire #19: 24 Apr 2013
none
Published monthly. Final issue is #19.
Mary - The Queen of the Damned
Other Characters/Places/Things
[
edit
|
edit source
]
I, Vampire - Collects House of Mystery vol. 1 #290, 291, 293, 295, 297, 299, 302 and 304-319, plus The Brave and the Bold vol. 1 #195. "Vampiric Lord Andrew Bennett turned his beloved Mary Seward into a vampire, hoping to keep her by his side through eternity. But what happens when her power turns her evil?" - WorldCat - ISBN 1401233716
I, Vampire, vol. 1: Tainted Love - Collects #1-6. "For hundreds of years, vampire Andrew Stanton kept mankind safe from the horrors of the supernatural world, thanks to a truce he made with his ex-lover Mary, the Queen of the Damned. But now that truce has reached a bloody end and Andrew must do everything in his power to stop Mary and her dark forces from going on a killing spree - and she plans to start with the heroes of the DCU!" - WorldCat - ISBN 1401236871
I, Vampire, vol. 2: Rise of the Vampires - Collects #7-12, plus Justice League Dark #7-8. "Andrew Bennett finds himself in a place he never thought he'd reach during his countless decades walking the Earth. But his absence on Earth signals a deadly loss of order in the vampire hierarchy, as the savage attack on humanity he's long feared looks like it's coming to pass. Plus, the vampire pilgrimage begins—but along the way, they encounter an ancient enemy: the Van Helsings!" - WorldCat - ISBN 1401237835
I, Vampire, vol. 3: Wave of Mutilation - Collects #0, 13-19. "Andrew Bennett, the only good vampire, has gone very, very bad! Now it's up to Mary, Queen of Blood, to stop him. But to do that, she must find out which vampire turned him." - WorldCat - ISBN 1401242782
I, Vampire, vol. 1: Tainted Love - Collects #1-6. - Kindle
Leftover Useful Information
[
edit
|
edit source
]
Writer: Joshua Hale Fialkov. Artist: Andrea Sorrentino. Covers: Jenny Frison.
First published in 2011.
Dates subject to change at the whims of the publisher or distributor. Please see the Diamond Shipping Lists for current information.
Community content is available under
CC-BY-SA
unless otherwise noted.