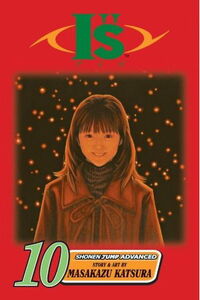 I"s is published by Viz, LLC. Current price is $7.99 per volume.
Publication Dates
Edit
Last Issue
Edit
I"s, vol. 14: 20 Jun 2007
Current Issue
Edit
I"s, vol. 15: 29 Aug 2007
Next Issue
Edit
none
Bimonthly. Tankōbon. Part of the Shonen Jump Advanced line. Scheduled for 15 volumes.
Characters
Edit
Main Characters
Edit
Ichitaka Seto - Everyman highschooler. Nervous around girls, pretty much a geek or nerd. Is in love wth the beautiful Iori, but can't bring himself to tell her.
Iori Yoshizuki - Once a pretty but shy high school girl, she posed over the summer in a swimsuit pictorial and is now the lusty dream girl of every boy at school. But she is still shy and wishes the attention would all go away.
Itsuki Akiba - Ichitaka's best friend from childhood, she has now returned to Japan after an extended stay in America and blossomed
Minor Characters
Edit
Yasumasa Teratani - Ichitaka's best friend, and also a nerd.
Takano Seto - Ichitaka's mother.
Other Characters/Places/Things
Edit
Recent Storylines
Edit
I"s, vol. 15
Edit
I"s, vol. 14
Edit
I"s, vol. 13
Edit
I"s, vol. 12
Edit
I"s, vol. 11
Edit
I"s, vol. 10
Edit
I"s, vol. 9
Edit
I"s, vol. 8
Edit
I"s, vol. 7
Edit
I"s, vol. 6
Edit
I"s, vol. 5
Edit
I"s, vol. 4
Edit
I"s, vol. 3
Edit
I"s, vol. 2
Edit
Itsuki has returned to Japan, causing all sorts of embarrassment and misunderstandings as she parades around frequently in her underwear and sends mixed signals to Ichitaka, both in public and privately. Later, Itsuki win s a trip to a hot springs resort, but gives the tickets to Iori and Ichitaka to enjoy. But it turns out that the resort is owned by Yasumasa's parents, and he and Itsuki show up to ruin Ichitaka's plans for a romantic weekend. - WorldCat - ISBN 1591169534
I"s, vol. 1
Edit
Past Storylines
Edit
Leftover Useful Information
Edit
Creative Team
Edit
Created, Written and Drawn by Masakazu Katsura.
Publishing History
Edit
First published in Japan in 1997.
First English-language translation published by Viz in 2005.
Order Codes
Edit
These are the order codes and prices as provided by Diamond Distribution. Your local comic shop should be able to order these for you.
JAN05 3079 IS VOL 1 GN $7.99
APR05 3272 IS VOL 2 GN $7.99
JUN05 3302 IS VOL 3 GN $7.99
AUG05 3268 IS VOL 4 GN $7.99
OCT05 3353 IS VOL 5 GN $7.99
Future Publication Dates
Edit
Dates subject to change at the whims of the publisher or distributor. Please see the Diamond Shipping Lists for current information.
Community content is available under
CC-BY-SA
unless otherwise noted.