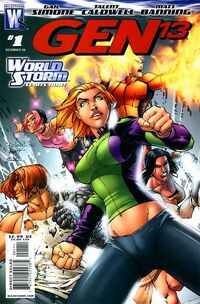 Gen13 is published by DC Comics under the WildStorm imprint. Current price per issue is $2.99.
Gen13 #38: 13 Oct 2010
Gen13 #39: 15 Dec 2010
none
Bi-monthly series. Final issue is #39.
Other Characters/Places/Things
[
edit
|
edit source
]
This is the current issue, and therefore no story information will be posted about this issue. Please check your local comic shop for copies of this issue.
Gen13: The Complete Collection - Collects vol. 1 #1-5, ½ & vol. 2 #0-7, plus Gen13 Rave. - WorldCat - ISBN 9781401265731 - (forthcoming, April 2017)
Gen13, vol. 1: Best of a Bad Lot - Collects vol. 3 #1-6. "Meet Caitlin, Sarah, Roxy, Bobby, and Eddie — outcast teenagers who must discover the secret to their newfound powers and what role the nefarious Tabula Rasa and International Operations play in their lives." - WorldCat - ISBN 1401213235
Gen13, vol. 2: Road Trip - Collects vol. 3 #7-13. "I.O. finally catches up with the rogue Gen13 kids, and they send in the heavy hitters to bring them down: the all-new, all-exciting Authori-teens." - WorldCat - ISBN 1401216498
Gen13, vol. 3: 15 Minutes - Collects vol. 3 #14-20. "The team heads to New York City for a little rest and relaxation. But when they find their dreams coming true in the Big Apple, Caitlin becomes suspicious! Could I.O. and the Tabula Rasa be behind their sudden good fortune? Or have the kids been on the lam for so long they've forgotton how to be happy?" - WorldCat - ISBN 1401220029
Gen13, vol. 4: World's End - Collects vol. 3 #21-26. "After jumping through an I.O. teleportation device at the close of their last adventure, the Gen13 kids find themselves in a radically changed world they never expected." - WorldCat - ISBN 1401224881
Leftover Useful Information
[
edit
|
edit source
]
Gen13 created by Jim Lee, Brandon Choi & J. Scott Campbell
Writer: Gail Simone. Artists: Talent Caldwell and Matt "Batt" Banning
Volume 1: #1-5, 1994 (WildStorm/Image)
Volume 2: #0-77, 1994-2002 (#0-36: WildStorm/Image; #37-77: WildStorm/DC)
Volume 3: #1-39, 2006-2010 (WildStorm/DC)
Dates subject to change at the whims of the publisher or distributor. Please see the Diamond Shipping Lists for current information.
Gen13: The Complete Collection TP: 05 Apr 2017
Community content is available under
CC-BY-SA
unless otherwise noted.