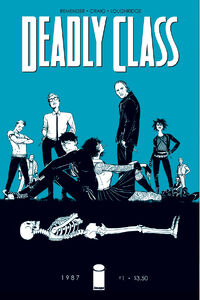 Deadly Class is published by Image Comics. Current price per issue is $3.99.
Publication Dates
Last Issue
Deadly Class #48: 08 Sep 2021
Current Issue
Deadly Class #49: 01 Dec 2021
Next Issue
Deadly Class #50: 29 Dec 2021
Status
Irregular series.
Characters
Main Characters
Allies
Billy - Marcus's best friend.
Enemies
Minor Characters
Other Characters/Places/Things
Recent Storylines
Deadly Class #49
This is the current issue, and therefore no story information will be posted about this issue. Please check your local comic shop for copies of this issue.
Deadly Class #48
Deadly Class #47
Deadly Class #46
Deadly Class #45
Deadly Class #44
Deadly Class #43
Deadly Class #42
Deadly Class #41
Deadly Class #40
Deadly Class #39
Deadly Class #38
Deadly Class: Killer Set
Deadly Class #37
Collections
Trade Paperbacks
Deadly Class, vol. 1: Reagan Youth - Collects #1-6. "It's 1987. Marcus Lopez hates school. His grades suck. The jocks are hassling his friends. He can't focus in class. But the jocks are the children of Joseph Stalin's top assassin, the teachers are members of an ancient league of assassins, the class he's failing is "Dismemberment 101," and his crush has a double-digit body count. Welcome to the most brutal high school on earth, where the world's top crime families send the next generation of assassins to be trained. Murder is an art. Killing is a craft. At Kings Dominion School for the Deadly Arts, the dagger in your back isn't always metaphorical." - WorldCat - ISBN 1632150034 - Kindle
Deadly Class, vol. 2: Kids of the Black Hole - Collects #7-11. "Marcus Lopez is settling into life at Kings Dominion for the Deadly Arts, a secret elite school, to train the next generation of assassins. He has a girl, a circle of friends, and he's learning a trade: the craft of killing. But his murderous past is about to catch up with him, and there are a few things about Marcus that even his friends don't know. Secrets that threaten the lives of everyone around him. Because there's a reason Marcus was sought out by the school's shadowy principal Master Lin, a man who's long had an eye for Marcus's unique talents. Continuing the story of a group of damaged, deranged, and struggling teenagers living through one of the country's most vibrant and chilling eras." - WorldCat - ISBN 9781632152220 - Kindle
Deadly Class, vol. 3: The Snake Pit - Collects #12-16. "Marcus and his girlfriend Maria are thrown to the wolves when a Mexican Cartel, the family of a classmate they were forced to kill, comes gunning for revenge. The true costs of the life he's chosen to live are only just dawning on Marcus. The troubled teen has never been more troubled." - WorldCat - ISBN 9781632154767 - Kindle
Deadly Class, vol. 4: Die for Me - Collects #17-21. "It's 1988 and Marcus Lopez's first year at Kings Dominion, the elite academy where damaged teenagers are forged into the world's deadliest assassins, is coming to a close, and the final exam. Pass or Fail, no one survives the Freshman Finals without getting blood on their hands." - WorldCat - ISBN 9781632157188 - Kindle
Deadly Class, vol. 5: Carousel - Collects #22-26. "It's morning in America, and those who lived through last arc's brutal finale barely have had time to consider what they've done before a new class of kids enroll in the school, eager to pick up the bloody mantle. Sophomore survivor Saya Kuroki is given a chance to ascend in the ranks of the school's deadliest and most ruthless students, and all it will cost her is what's left of her humanity." - WorldCat - ISBN 9781534300552 - Kindle
Deadly Class, vol. 6 - Collects #27-31. "The freshman class has gotten a bloody welcome to Kings Dominion, as the newly empowered student council holds brutal sway over the hallways and dorms. If you're not part of the group, you're part of the body count. Meanwhile, Saya's own mysterious past comes back to haunt her. Betrayal and subterfuge are around every corner. And far from the bloodshed are Marcus and Maria, rare survivors of the deadliest school on earth, harboring dark desires for revenge." - WorldCat - ISBN 9781534302471 - Kindle
Deadly Class, vol. 7: Love Like Blood - Collects #32-35. "Marcus and Maria have resurfaced, and with them a whole ocean of bad blood crashes on the shores. Shabnam and the Student Council are out to put Marcus and Maria in the grave for good this time, Saya's maniacal brother Kenji stokes the flames of hatred, and in the shadows of those flames looms Headmaster Lin, waiting to reward whoever is left standing with a place by his side—or a sharp knife in the back." - WorldCat - ISBN 9781534306967 - Kindle
Deadly Class, vol. 8: Never Go Back - Collects #36-39 & Killer Set. "The crew returns to Kings Dominion to discover things have changed in their absence. The program has changed. Master Lin's schemes revealed. Betrayal. Mystery. The secret of the catacombs beneath the school. A reckoning for the corrupt. Our friends try to hold everything together as Freshman finals loom ever closer…" - MAY188805 - WorldCat - ISBN 9781534310636
Deadly Class, vol. 10: Save Your Generation - Collects #45-48. "Everyone's favorite assassin undergrads are back! It's a new era, but old habits die hard-and old grudges die even harder. Can the latchkey kids of a forgotten generation find their footing in a world that can't understand them and doesn't care to try?" - JUL210142 - WorldCat - ISBN 9781534319325 - Kindle
Hardcovers
History
Leftover Useful Information
Creative Team
Writer/Creator: Rick Remender. Artist/Covers: Wesley Craig & Lee Loughridge.
Publishing History
First published in 2014.
Future Publication Dates
Dates subject to change at the whims of the publisher or distributor. Please see the Diamond Shipping Lists for current information.
Deadly Class #50: 29 Dec 2021
Deadly Class #51: 26 Jan 2022
Deadly Class #52: 16 Feb 2022
News & Features
Links