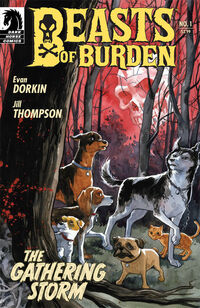 Beasts of Burden is published by Dark Horse Comics. The cover price is $2.99.
Publication Dates
Last Issue
Beasts of Burden: Occupied Territory #3: 02 Jun 2021
Current Issue
Beasts of Burden: Occupied Territory #4: 07 Jul 2021
Next Issue
none scheduled
Status
Series of mini-series and one-shots.
Characters
Main Characters
Ace
Rex
Pugs
Jack
Whitey
The Orphan
Allies
The Society of Wise Dogs
Miranda
The Get-Away Kid
Hoke (reluctantly)
Dymphna
Enemies
Minor Characters
Other Characters/Places/Things
The Boy (who could talk)
David Reardon
The Black Dog
Recent Storylines
Beasts of Burden: Occupied Territory #4
This is the current issue, and therefore no story information will be posted about this issue. Please check your local comic shop for copies of this issue.
Past Storylines
Collections
Hardcovers
Beasts of Burden: Animal Rites - Collects #1-4, plus the original stories from the Dark Horse anthologies. "Beasts of Burden is a fun-filled adventure story that features a heroic group of dogs—and one cat—who are set with the task of keeping the residents of Burden Hill safe from supernatural occurrences. Early experiences with the paranormal have set up Pugs, Red, Whitey, Ace, and the Orphan to become members of the Wise Dog Society, official animal agents to aid those with odd concerns. Following a slew of magical frogs, encountering hostile ghosts, setting off to rescue an old friend from a sewer filled with some very large rats, and discovering buried secrets in the local cemetery are all in a day's work for this new team of unlikely heroes." - WorldCat - ISBN 1595825134
Beasts of Burden, vol. 2: Neighborhood Watch - Collects Neighborhood Watch, Hunters and Gatherers, What the Cat Dragged In, and The Presence of Others #1-2. - MAY190285 - WorldCat - ISBN 9781506714103 - Kindle
Beasts of Burden: Wise Dogs and Eldritch Men - Collects Wise Dogs and Eldritch Men #1-4. "A heroic pack of canines known as the Wise Dogs sets off on a mission to clean up a Pennsylvania corridor plagued by seemingly unrelated occult disturbances that include a fire salamander and a horde of mutant lurkers." - WorldCat - ISBN 9781506708744
Beasts of Burden: Occupied Territory - Collects Occupied Territory #1-4. "An elder member of the occult-battling pack of Wise Dogs recalls a harrowing mission-in U.S-occupied Japan after World War II, a mysterious curse creates an army of crawling, disembodied heads which threatens to overwhelm the region. Emrys and a team of canine companions attempt to solve the mystery, bringing them into conflict with shape-changing tanuki, evil oni, and a horde of vengeful demons." - JUL210378 - WorldCat - ISBN 9781506720395 - Kindle
Trade Paperbacks
History
Leftover Useful Information
Creative Team
Writer/Creator: Evan Dorkin. Artist/Creator: Jill Thompson. Artist: Benjamin Dewey.
Publishing History
First published in 2009.
Future Publication Dates
Dates subject to change at the whims of the publisher or distributor. Please see the Diamond Shipping Lists for current information.
News & Features
Links