Jurassic World: Dominion Dominates Fandom Wikis - The Loop
Play Sound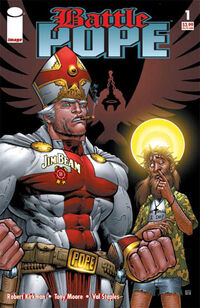 Battle Pope is published by Image Comics. Current price per issue is $2.99.
Publication Dates
Last Issue
Battle Pope #13: 21 Feb 2007
Current Issue
Battle Pope #14: 09 May 2007
Next Issue
none scheduled
Status
Irregular on-going.
Characters
Main Characters
Allies
Battle Pope Jesus(J)
Santa claus
Enemies
Minor Characters
Other Characters/Places/Things
Recent Storylines
Battle Pope #14
This is the current issue, and therefore no story information will be posted about this issue. Please check your local comic shop for copies of this issue.
Battle Pope #13
Past Storylines
Collections
Battle Pope, vol. 1: Genesis - Collects #1-4. "It's the end of the world and few are worthy of passage to heaven, not even the Pope. God leaves behind Saint Michael, the leader of his army, to act as a guardian for the humans. He fails, and is held captive by Luicfer. God then enlists the aide of the Pope to rescue Michael, and leaves his son Jesus H. Christ to assist him in his quest." - WorldCat - ISBN 1582405727
Battle Pope, vol. 2: Mayhem - Collects #5-8. "Featuring the downfall of HellCorp and Pope's rise to local celebrity status, plus as many fights, guns, jokes, chicks and violence as you can fit in a 120-page trade paperback." - WorldCat - ISBN 1582406529
Battle Pope, vol. 3: Pillow Talk - Collects #9-12. "Picking up right were Volume 2 left off, this edition follows Pope through three love affairs and the sometimes deadly ramifications of them all. Jesus Vs. Santa! Pope makes time with the Virgin Mary! This one has it all." - WorldCat - ISBN 1582406774
Battle Pope, vol. 4: Wrath of God - Collects #12-14. "Battle Pope is in big trouble when God finds out about the time he spent with Mary over Christmas. Fire and brimstone fly as the stage is set for the battle of the millennium, Battlepope vs. GOD!" - WorldCat - ISBN 1582407517
History
Leftover Useful Information
This is the spot for any useful information that doesn't fit into the above categories.
Order Codes
These are the order codes and prices as provided by Diamond Distribution. Your local comic shop should be able to order these for you.
APR05 1657 BATTLE POPE #1 $2.95
MAY05 1547 BATTLE POPE #2 $2.95
JUN05 1769 BATTLE POPE #3 $2.95
JUL05 1646 BATTLE POPE #3 $2.99
AUG05 1670 BATTLE POPE #5 $2.99
SEP05 1685 BATTLE POPE #6 $2.99
OCT05 1726 BATTLE POPE #7 $2.99
Note: the July book might actually be Battle Pope #4
Collections
SEP05 1672 BATTLE POPE COLOR VOL 1 GENESIS TP $12.99
Future Publication Dates
Dates subject to change at the whims of the publisher or distributor. Please see the Diamond Shipping Lists for current information.
Links