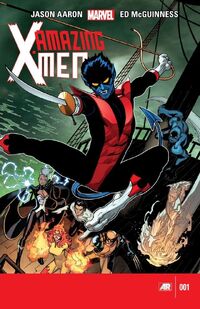 Amazing X-Men is published by Marvel Comics. Current price per issue is $3.99.
Publication Dates
Edit
Last Issue
Edit
Amazing X-Men #18: 25 Mar 2015
Current Issue
Edit
Amazing X-Men #19: 22 Apr 2015
Next Issue
Edit
none
Published monthly.
Characters
Edit
Main Characters
Edit
Minor Characters
Edit
Other Characters/Places/Things
Edit
Recent Storylines
Edit
Amazing X-Men #19
Edit
This is the current issue, and therefore no story information will be posted about this issue. Please check your local comic shop for copies of this issue.
Amazing X-Men #18
Edit
Collections
Edit
Trade Paperbacks
Edit
Amazing X-Men, vol. 1: The Quest for Nightcrawler - Collects vol. 2 #1-6. "Ever since Nightcrawler's death, the X-Men have been without their heart and soul. But after learning that their friend may not be gone after all, it's up to Wolverine, Storm, Beast, Iceman, Northstar and Firestar to find and bring back the fan-favorite fuzzy blue elf! But when the team finds themselves separated and split between heaven and hell, can they get to Nightcrawler's soul before his father, the evil Azazel, does? Pushed over the edge, the Beast gives into his savage side like never before, as Nightcrawler rallies the X-Men to take on Azazel and his hellish hordes! Can the X-Men save the afterlife, or must one of the team make the ultimate sacrifice?" - WorldCat - ISBN 0785188215 - comiXology
Amazing X-Men, vol. 2: World War Wendigo - Collects vol. 2 #7-12. "When Wolverine discovers an old friend is missing, his visit to Canada soon transforms into a hairy situation. The Wendigo virus is running rampant, changing people into flesh-eating monsters! Now, the X-Men and Alpha Flight must fight to stop the growing tide of Wendigos from consuming everything and everyone in their path — a task made harder when an X-Man falls prey to the deadly disease! Desperate, the X-Men take the fight to the Spirit Realm, but how do the Great Beasts fit into this mayhem? And will even the combined forces of the X-Men and Alpha Flight be enough to save Canada from this cannibalistic plague?" - WorldCat - ISBN 9780785188223 - comiXology
Amazing X-Men, vol. 3: Once and Future Juggernaut - Collects vol. 2 #13-19 & Annual #1. "When the Gem of Cyttorak reappears, seeking to create a new avatar, none hear its call more than those who have previously housed Cyttorak's power, Cain Marko and Colossus. But they aren't the only ones hunting for the Gem. Can the X-Men find it before it's too late? And can Colossus resist the temptation of Cyttorak's power?" - WorldCat - ISBN 9780785192480 - comiXology
Leftover Useful Information
Edit
Creative Team
Edit
Writer: Jason Aaron. Artist/Covers: Ed McGuinness.
Publishing History
Edit
Volume 1: #1-4, 1995 (miniseries)
Volume 2: #1-19, 2013-2015
Future Publication Dates
Edit
Dates subject to change at the whims of the publisher or distributor. Please see the Diamond Shipping Lists for current information.
News & Features
Edit
Community content is available under
CC-BY-SA
unless otherwise noted.