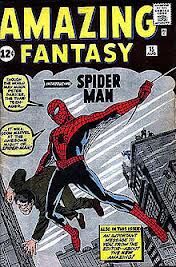 Amazing Fantasy is a Marvel comic book that introduced Spider-Man.
Publication Date
Last Issue
Amazing Fantasy #19 May 2006
Current Issue
Amazing Fantasy #20 June 2006
Next Issue
None
Status
Changed to Amazing Spider-Man in 1962 but was relaunched in 1995 and was canceled after three issues. Then it was relaunced again in 2004.
Characters
Main Characters
Carmilla Black
Miquel
Derek Khanta
Monica Rappaccini
Spider-Girl
Varina Goddard
Agent Braccia
Gil Corazon
Betty Brant
Recent Storylines
Amazing Fantasy #20
Amazing Fantasy #19
Death's Head has finally caught up with G.E.I.S.T. agent Ray Hidalgo as the clock runs out for the U.N./A.I.M. treaty. Is this the end of peace on earth? If Scientist Supreme Varina Goddard has her way, it's the end of Ray Hidalgo as well. ALSO IN THIS ISSUE: Celebrating the 20th Anniversary of THE NEW UNIVERSE, an 8-page bonus story featuring SPITFIRE by Justin Gray and Marshall Rogers. 
Amazing Fantasy #18
The Geneva treaty between the U.N. and A.I.M. is only hours away, paving the road to peace between the former techno-terrost organization and the world, but the newly activated cybernetic entity known as Death's Head threatens to change those plans. ALSO: In anticipation of next month's NEW UNIVERSE event, a bonus 8-page story featuring Mark Hazzard, MERC!
Community content is available under
CC-BY-SA
unless otherwise noted.